I've been on a few Scrum teams now, the latest with my current Intuit Hosting Engineering (HE) position. HE is doing Scrum well, implementing almost all of it as far as I can tell. I recently took the training to be a certified Scrum Product Owner – one of the three primary Scrum roles. It seems like this is what was missing from the Innovation Lab (iLab) processes we used – the "what came next" part that was always a challenge for us.
In the iLab, we had an unmatched process for discovering innovative solutions for tough problems, and getting quickly to the minimum viable feature set. What was tough was then transitioning that to a business unit for development and launch. Scrum takes care of that part of the process.
What we needed was a feature set that was described in terms of User Stories, detailed deeply enough for a development team to estimate in terms of relative development time (story points). The User Stories would be more than just the minimum viable, getting us over the hump of disbelief on the part of the business – disbelief that the product had enough features. The "minimum viable" would simply be the highest priority user stories, and the entire set would be in the "backlog" – all of the known user stories in diminishing detail.
The cost/time of development would be established if you already had a Scrum team, but it only takes about three Sprints – 1 to 4 weeks – to establish a baseline "velocity" for a new team. Velocity is a simple measure that indicates how many story points that a team can accomplish in a given sprint.
When a team follows Scrum, they can become hyper-productive: teams that quadruple their velocity compared to their first sprint. There's apparently two simple things that get a team to this measure – a backlog that has very well-defined user stories and an automated build that includes automated testing.
I think there's a trifecta here that, when combined, would be a simple but effective way to make a successful idea into a successful business: front end innovation (iLab style), with lean startup-mindset prioritizing of user stories, developed by a Scrum team.
It's finally here (or at least it's in the App Store awaiting review)! This is the Super Conversions (aka SuperConvert) that I've always wanted to develop. I had some time, so I coded almost non-stop, and it's ready to roll. This is a fully functional calculator, with Memory, sin, cos, Pi, tan and other useful functions. See the calculations at the top and the unit conversions at the bottom, with easily selected conversion categories and units. Copy either the calculated value or the converted value.
If you have a support question on this or other SuperConvert or Super Conversions apps, please post a comment below or @Super_Covert on Twitter. There are also "conversion facts" that show up every once in a while. If you have a fact you'd like to see in the App, tweet it to @Super_Convert and I'll add it to the list. Include a link to an image if there's an appropriate one for the fact. Note that all facts are moderated.
The design of the new SuperConvert 9.0 is actually based on an old calculator I've had for about 28 years. The solar powered device still works, and it's still the primary calculator I use at my desk. Check out the picture of the app and compare it with the picture I took of my calculator. I used that picture to design most of the visual elements of the app.
If you have any support questions, or features you'd like to see, bugs to report, etc… – please post a comment below and I'll get back to you.
I'm currently testing an iPad Dashboard app for QuickBooks Windows Desktop. It shows a few informational things about your QuickBooks company in a dashboard style app on an iPad. I have no idea yet if it'll be useful for anyone, or if I'm showing the right kind of information. I'm using TestFlightApp.com to get testers running the app before (if) it goes live in the Apple App store.
If you've never published into the Apple app store before, and you've never used TestFlight before… I have to say, it isn't an easy process to use. It took me about 3 hours to finally get the TestFlight process down to the minimum. I installed and deleted and re-installed on my iPad.
Apple doesn't help – if you delete a device from your allocation of 99 test devices, then re-add it, it takes up 2 slots. I added my personal iPad, then deleted it, then added it again. Presto: down to 97 devices. Avoid deleting a device if you can. Apparently my allocation will reset after a year. When I pay another $99 for the iOS developer subscription.
Intuit has, of course, a developer account and provisioning certificates and all that… but is also limited in the number of devices. When you have a dozen apps you're testing, then the team doing the apps will need their own iOS developer subscriptions. I guess that's okay.
And that's step number 1: get your own iOS developer subscription.
Apple has a great product in Xcode, but make sure you have the latest version – 4.3.3. Because if you don't, using TestFlight gets harder.
That's step number 2: use the Mac App Store to install Xcode 4.3.3 – note that it'll nicely, at least mostly nicely, update your Mac and get rid of the older version for you.
Step number 3 is to always use Xcode to manage your developer profiles and account – go to the Organizer in Xcode, Devices/Provisioning Profiles and click Refresh. That'll generate the various certificates and such that you need – just click the various dialogs to automatically submit requests and such. Hey, and make sure your iPad is connected to your Mac when you do the refresh.
Next you will need to go back to the Developer site and add an Ad-Hoc Provisioning profile. That's step number 4. Provisioning, Distribution, New Profile, Ad Hoc. That's pretty much it – select all your devices (probably only your personal one will be there). Apple will accept that "new profile" as a request, then approve it. Apple used to take up to 24 hours, it seemed, to approve, but now it appears to happen within seconds.
Step number 5 is to go back to the Xcode organizer (after your Ad-Hoc profile is approved) and click Refresh again. That'll download the new Ad-Hoc provisioning profile.
Step number 6 is to make sure your app is setup with the proper profile. In Xcode, go to your Target, Build Settings, Code Signing. Click the Top "Code Signing" line and select iPhone Distribution. If the Ad-Hoc is the only distribution profile you have, it'll be the one properly selected for everything. If it isn't the only one, you'll have to look at the drop down and select your new Ad-Hoc profile.
Okay, that's it for the basics. Those 6 steps don't have to be done again. However, the next part of the process, using TestFlight, is a bit repetitive – you must do it over and over, every time a new tester is added (or at least every time you want to authorize new tester(s) for your app).
Step A: Invitations – TestFlight has a couple of ways to invite folks. I've found the one-off invitation form to be useful. Click on Add Teammate and you can enter an email address and a short message. The recipient will get a link to TestFlightApp.com's acceptance page, with a single button click to accept (and an optional form to fill out if they want to permanently register on TestFlightApp.com).
In addition to Accepting, the invitee must also install a TestFlightApp profile on their device (shows up as an Add my device type of button after Accept is clicked). It's just a matter of "Yes, accept, yes, install, Done" type clicks.
You'll get an email for each action – Accept and Device Added. The Device Added email will include an attachment containing the device ID for that tester.
Which brings me to Step B: Add Device. You must add that tester's device ID to your Apple developer account list of devices. In the developer portal, click on Devices, then click Upload Devices. Select that text file that was attached to the email from TestFlight. That'll add that tester's device.
Next, you must add that new device to your Ad-Hoc Provisioning Profile, aka Step C. Click on Provisioning, Distribution, then click Edit and Modify next to your Ad-Hoc profile. There you can Select all the devices for that profile – the new one you just uploaded will be available but un-selected. Just select it and then click Save.
Step D: Update Xcode. Now go back to Xcode's Organizer and click Refresh. It'll churn for a bit, eventually updating your Ad-Hoc profile with the new one that includes the tester devices.
Step E: Compile and save your app as an IPA file. Now that you have valid testers in the Ad-Hoc provisioning profile, you can compile a version of your app that is ready for TestFlight-ing. Build for Archiving, then Archive. The organizer will pop up and you can select Distribute, Save for Enterprise or Ad-Hoc. Make sure you select the same Ad-Hoc provisioning profile in the subsequent drop down that you used to create the build. The dialog will ask you the filename to save as an IPA.
Step F: Upload your build to TestFlight. Next click on the Upload Build in TestFlight and upload your IPA. Easy peasy.
Step G: Inform your tester. After uploading, you'll see the "Permissions" dialog in TestFlight. Select the new tester and click the Update and Notify button. That'll send an auto-generated email to that tester with a link to install the app.
And you're done! At least until the next time a tester accepts your invitation, because you'll have to go back to Step A (well, really Step B since they've obviously been invited already) and do it all over again! Ahh well, at least it's much easier than trying to enter those IDs manually and distribute the IPA to be installed via iTunes or other such messy means.
Okay, so most of you probably already know how to do this, but it only occurred to me today. I develop various websites, usually creating a local version, then uploading it to an online dev version, and finally to the production instance.
In the past, I'd go into my httpd.conf configuration file and change my DocumentRoot to a different website, then restart Apache.
But I realized I could just use a hosts file to point local subdomain to a different folder, e.g. gi.localhost or site2.localhost, or, I could even use the real site's eventual url: mysite.com or some such.
On my Mac (generally my exclusive machine these days), I edit /etc/hosts and add a line:
gi.localhost       127.0.0.1
Then I make the appropriate changes in /private/etc/apache2/httpd.conf
<Directory />
    Options FollowSymLinks
 AllowOverride All
    Order deny,allow
 Allow from all
</Directory>

NameVirtualHost 127.0.0.1:80

<VirtualHost 127.0.0.1:80>
    DocumentRoot /Users/mhart/localhost
    ServerName localhost:80
    ServerAlias 127.0.0.1:80
</VirtualHost>

<VirtualHost 127.0.0.1:80>
    DocumentRoot /Users/mhart/gi.localhost
    ServerName gi.localhost:80
    ServerAlias 127.0.0.1:80
</VirtualHost>
In Windows, the hosts file is in c:\Windows\System32\Drivers\etc, and your Apache config file can be found from the Start menu.
I think that my best apps are the ones I create in order to fulfill my own needs. PhotoKiosk is one of them – I wanted a nice way to view and discover photos. I set it to view the Flickr public feed, Utata Pool, my own feed, plus a variety of tags. It's cool!
I recently saw new toy prototypes for the next Batman movie, beautiful snowscapes from around the world, and even a ladies' roller derby team party. It's also cool watching what people tag as "iPad". It's usually a drawing created on the iPad, but sometimes it is children using the device or a new case. I saw a sort of stick on peel off case that created a form-fitted protective cover around the iPad.
I updated PhotoKiosk, so check out the Lite and paid versions in the App Store.
Here's the Feed list I use on mine:
public feed
Utata Pool
wildlife (tag)
tiger
guitar
toys
iPad
batman
snow
landscape
funny
What's your feed?
 PhotoKiosk turns your iPad or iPad 2 into a gorgeous kiosk, displaying photos from an unlimited number of Flickr photo feeds or compatible URLs. Also works with the iPhone and iPod Touch.
A password-protected setup screen allows you to add feeds using an individual ID, a group ID, tags, the public feed, or a custom feed URL, or any combination. Feeds can be easily switched on or off, and a description of each feed can be optionally displayed on the kiosk.
Feeds are automatically cycled based on the refresh time you set, and the number of photos to display can also be changed. Touch a photo to zoom in, triple tap the screen to access the settings (after also entering your password), or quadruple tap to refresh the page and move to the next feed.
Older pictures are smaller and/or more transparent, while the newest pictures show up larger and opaque. Tap any picture to zoom in to the fullest size possible.
Works in either landscape or portrait mode and automatically compensates when you rotate the iPad. Use it in conjunction with iPad kiosk hardware that hides the Home button to turn it into a photo display for trade shows, non-profits or other businesses.
In this version:
* Customize the kiosk name
* Custom kiosk description or per-feed descriptions
* Unlimited feeds
* Select the number of photos
* Select the refresh timeout
* Change the password
Available now in the App Store!
Updated to version 1.2 – fixed a bug introduced by a Flickr API call change. Also removed the interruptive error messaging.
Super Conversions/SuperConvert
SuperConvert is the iPad/iPhone/iPod version of the popular Super Conversions Windows application, with over 20,000 conversions possible in 18 categories: Distance, Area, Volume, Weight, Power, Pressure, Temperature, Time, Energy, Force, Acceleration, Illuminance, Concentration, Electrical Current, Hydraulics, Density, Velocity and Viscosity.
Now Available! Click here to view it in the App Store.
Updated to version 8.2, fixed a problem where it was ignoring decimal places.
First part in a series detailing my journey line as a programmer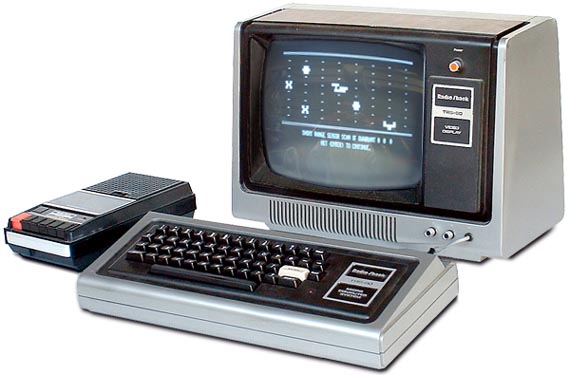 I encountered my first computer when I was in the 8th grade. I was living in Reno, Nevada, and had a friend who's dad ran a couple of 7/11 stores with the help of a TRS-80 and some software he'd written. The program's listing was printed out on tractor feed paper and was completely incomprehensible to me. I also saw the "Dancing Demon" application. The listing for it was even more crazy since it made extensive use of string packing, where machine language was encoded into BASIC string statements.
I was hooked and had to know more about this "personal computer" thing where you could write your own games and such.
Enter my summer job washing dishes at Dodson's Cafeteria, circa 1979. I worked full time and saved my money. At the end of the summer, my step-dad took me to Radio Shack and kicked in the last hundred dollars or so for my very own TRS-80 Model I Level II, a 16K black and white computer with a cassette tape drive for storage. I also got a subscription to SoftSide magazine, a monthly publication with program listings n BASIC for the TRS-80. I typed in the listings and, with the help of the computer's reference manual, debugged the programs and got them running. Thus I began to learn how to program.
In 1980, at the age of 14, I was hunched over a keyboard in the attic office space of our home in Dallas, writing a silly Enterprise vs. Klingons game, with a big blocky Enterprise on the left and a Klingon warbird on the right. Each player used a pair of keys to move their ship up and down the screen, and another key to fire upon their opponent. I knew little about realtime action programming at the time, so all movement ceased during a firing. It wasn't the funnest of games to play, but it was my first real program, created entirely from scratch.
I was off and running!
December 2008. The snow turned to rain, falling steadily throughout the night, coating the forest surrounding my house with tons of ice. A layer of warm air, high above the surface, melted the falling snow. The air at the surface was still below freezing, causing the ice storm. I live down a one lane gravel road, tall trees guarding the road and the power lines that snake up the hill. Both mighty oak and tall pine trees were broken by the onslaught of ice, yanking the phone line from our home with a loud tearing noise, snapping heavy power lines in two. The grid went down at around 2am.
I ventured out every time a falling branch or tree shook the house, just wanting to check the integrity of our shelter. I didn't venture far, and I wore a protective… well… a bike helmet… just in case. The crash of falling branches sent me scurrying back under the roof. Trees continued falling all through the night and even into the next afternoon. I wasn't too worried – I was reasonably prepared for an extended power outage lasting, oh, three or four days.
I had a small generator – enough power for lights, a small electric burner, and a fireplace blower. I had 15 gallons of fuel, bought in advance of the storm.
I had a stockpile of good wood, enough to last maybe a week of solid burning. It was dry and underneath a tarp.
Our water comes from a well, but I had enough – we began conserving as soon as the power went out – even filling containers before going to bed.
The house is reasonably well insulated – it would keep warm enough without even a fire for several days, especially after I got out the duct tape and made sure the recessed can lights weren't leaking warmth into the attic.
But this was no ordinary outage, and it showed me how little I was prepared to be off the grid for an extended period.
There were about 6 very large trees blocking the driveway, and about 30 smaller ones. My neighbor and I went through two chain saws clearing them. We just picked up the power lines and moved them out of the way as best we could – no way there was any juice running through them!
The family moved into our warm room, closing the door and putting a towel under it. We had a light from the small generator, plenty of heat from the air-blown fireplace, board games and plenty to eat. We put a table on the deck and emptied the fridge onto it, covering it with a tarp. We didn't need no stinkin' fridge! Not with the outside temperature peeking at 45 or so during the day.
The true extent of the disaster unfolded during the next few days. Power wasn't just "out", the entire grid infrastructure was broken. Hundreds of miles of power lines had to be rebuilt all over the Northern counties of Mass and some Southern New Hampshire areas.
Not only were we dead center in the disaster zone, but our house is one of the last ones on the grid. We were hosed. And we couldn't even drive out of the disaster area – there was a huge tree hanging off a powerline in the middle of the road.
After six days, I began running out of wood. Water wasn't too big a deal, and the food supply was still okay. But the nights were going to get really cold without a fire. The generator ran out of gas, too, so no fireplace blower. My wife had already left for a hotel in Burlington, Ma, with the kids, where her car window was shattered by a GPS thief. I stuck it out for a while longer and prepared the house to be on its own for a while. I left after, I think, day 9 without power.
It takes a lot of work to become prepared for an extended period off the grid. The best book I know of is Cody Lundin's "When All Hell Breaks Loose". It's practical, not fanatical, and Cody lives what he teaches, having been off the grid for (correct me if I'm wrong) decades. I had some big basic things I wanted to do to be prepared for the next time it happens, and Cody's book has done a great deal to fill in the blanks and give me confidence that I've taken the right steps.
Cody teaches the rule of 3's – you can live 3 weeks without food, 3 days without water, but only 3 hours without warmth.
Core body temperature.
This means a simple fireplace isn't good enough, nor is a six day supply of fuel. So, wood stove and lots and lots of wood. Better overall insulation in the house – plug the gaps. Quality sleeping bags – for everyone. No more SpongeBob overnight bags, might as well buy the good stuff.
Water.
Stored potable water – enough immediately on hand for a month for 3 people, plus enough in a backup source, plus the means to make it potable, for as long as 100 days for 4 people. In addition to the 50 gallons in our regular water tank. And then there's the lake down the road, and several year's worth of disinfectant for water. Yeah, we got that covered now.
Food.
Okay, so this one seems to be the hardest for some reason. Looking at all the food options, things that seem to make it easy……. Cody makes it pretty clear – just buy more of what you eat right now, and rotate it. That's a little harder when you eat a lot of fresh stuff. But, some things are easy – more rice, more spaghetti, more spaghetti sauce, lots of Pop Tarts and cereal. Okay, maybe not as hard as I thought! Plenty of bullion cubes and hot chocolate mix and some instant coffee. And, well, go ahead and get that 10 pound box of powdered milk, but put it in a food safe plastic container!
It's not too hard, and it's mostly cheap – even an installed wood stove is less than $2,000. You don't need to go crazy, or be crazy, to prepare for a disaster, or at least prepare for an extended time of living off the grid. It's happened to me, and tens of thousands of others around me.
Be ready.
Spill is almost 16 years old, but it's time for him to go. He's been suffering for a week now, despite repeated visits to the vet. We're paying extra attention to him today, and he seems to be liking it, although he doesn't wag his tail.
He was our first dog, a miniature poodle with "phantom" markings – similar to a "party" poodle, but with symmetrical markings. His chest had a "bow tie" and he had white "eyebrows".
Like most poodles, he was intelligent and had a unique personality. As a puppy, and our first, he wasn't crated and it took a long time to housebreak him. He tore up carpets and scratched up doors. We finally crated him and he quickly learned to go outside, but he did have one last trick: he ate my daughter's homework once when she left it on top of his crate!
He managed to get out of our yard a few times, always into our neighbor's back yard, attached to ours just like the duplex we shared. Once during a birthday party, he burst out the door and took off down the street. Even in his old age, he was the fastest dog we had. The kid's grandmother led a flock of screaming girls and boys after him.
My most vivid memory involves another attempt at escape. I was picking up some Outback to go food, and I noticed a problem with the order. As I opened the door of the car to get it corrected, Spill shot out and ran toward the restaurant. I was wearing some "I'm not going into the restaurant" clothes: a holey shirt, shorts, and sandals. I ran after him as he made his way to the sidewalk surrounding the restaurant.
Did I mention he's fast? He rounded a corner and headed for the front door. If someone had opened it, no doubt he would have run inside. Instead, he continued left around to the side. We were near a major road, and quickly running out of sidewalk. I knew I had to end this pursuit fast, so I literally dove onto him, banging and bloodying my knee and hands and arms. Once home, I instructed everyone to not be nice to him!
When we got our other dog, Haunter, Spill was hilarious. He didn't want anything to do with this visitor. He would not even LOOK at Haunter, averting his eyes and never playing with him.
But then a curious thing happened – we noticed that he would play with Haunter outside, but only if no one was looking. If Spill saw anyone observing his play, he would immediately go back to ignoring Haunter. Funny little guy.
He was always kind of a nervous dog, furiously moving his legs on wooden floors like Fred Flintstone trying to run, slowly gaining momentum. When we moved into our current home, Spill was stuck running around on wooden floors and wooden stairs. He would have to nerve himself to charge up the stairs, sometimes tripping and falling backward as he clawed his way to the top. Often there would be a terrible racket as he scrambled up, missing steps and pumping his legs. He didn't seem to realize it was okay to take it slow and sure-footed. We put carpet stair thingies down just for him.
When we got our daughter's puppy, poor Mr. Spill had yet another hurdle to get up the stairs: the puppy would wait at the top and ambush Spill as he came up, barking and playing and blocking his way. This was a nightly headache for Spill, as the puppy harassed him for almost two years as he clawed his way to the top. He seemed to learn to ignore it, or at least nerve himself for it before he began his mad scramble.
Spill could roll over, play dead, speak, give you a high five, and catch popcorn… at least he would catch it until one day when he missed a Frisbee that hit him in the nose. After that, he wouldn't try to catch anything.
For the last few years of his life, he would get up and go outside, get his canned food, lay around on the couch or easy chair, go upstairs, then go to bed in my son's room. Sometime during the night, he'd come into our room and sleep on his own little bed.
We buried him on a hill, lying in his bed.
Goodnight Mr. Spill, wherever you are.